START LOCATION: Bride's Pool – northern pagoda/Lion's Pavilion
MAPS:
Google Maps: https://goo.gl/maps/cezSmZWY7h7p1ELcA
Centamap: http://hk.centamap.com/gc/centamaplocation.aspx?x=842424&y=840
TIME: 7:30 pm
HARES: Catch of the Day and Back to the Future
GETTING THERE:
For Plebs: Public Transport. Nearest MTR is Tai Po Market and hitch a ride or catch a Minibus 20R http://www.16seats.net/eng/gmb/gn_20r.html or KMB: 275R https://moovitapp.com/index/en/public_transit-line-275R-Hong_Kong-2741-858000-586105-1 to Bride's pool stop then walk 2 minutes
For Toffs: Drive along Ting Kok Road from Tai Po Road
PARKING: car park at Start
BUCKETS/ICE: Stingray
ON ON:
HARE SAYS: "bathing facilities available"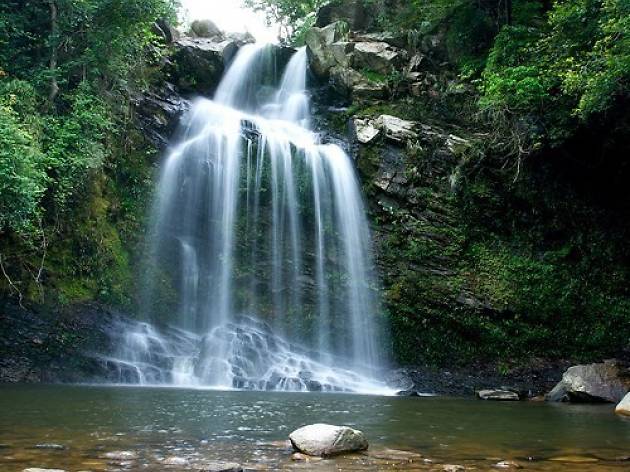 WEBSHITE'S COMMENT: Legend has it that a bride (Carried Lam) was being carried in a sedan chair by four porters on her way to meet her groom in stormy weather.
The Official Version: As they passed the pool, one of the porters slipped and the bride fell into the pool and drowned. Therefore, the pool was named Bride's Pool in memory of the bride.
The Truth: The bride was an ugly, miserable shrew foisted on the cute young groom by a despotic northern step-mother Cixi. The groom bribed the eunuch porters to do her in so he could elope back to the future with his sexy sweetheart from the Ho clan, his true catch of the day.
Despotic tep-mother Cixi in sedan chair surrounded by her miserable Eunuchs