Run 1968 – 20th May 2020
Fruity & Groovy in Kowloon
The Hare: Mango Groove
The Pencil: Liberace
The Editor: Golden Balls
The WINO (Webshite In Name Only)***: Gunpowder Plod
The Pack: QT, Back To The Future, Bunter, Creme Brulee, Eunuch, Geriatric, Golden Balls, Liberace, One Eyed Jack, Penile Dementia, Stingray, Radio 1, Velcro Lips.
The Preamble: This week's run was difference to traditional N2TH3 runs. Usually we run in the New Territories, but Mango set this run in Kowloon, at Ngau Chi Wan, probably because he was the hare for a lesser hash on Monday and didn't want to spend time setting a different twail. The lazy guy just repeated the same twail for us.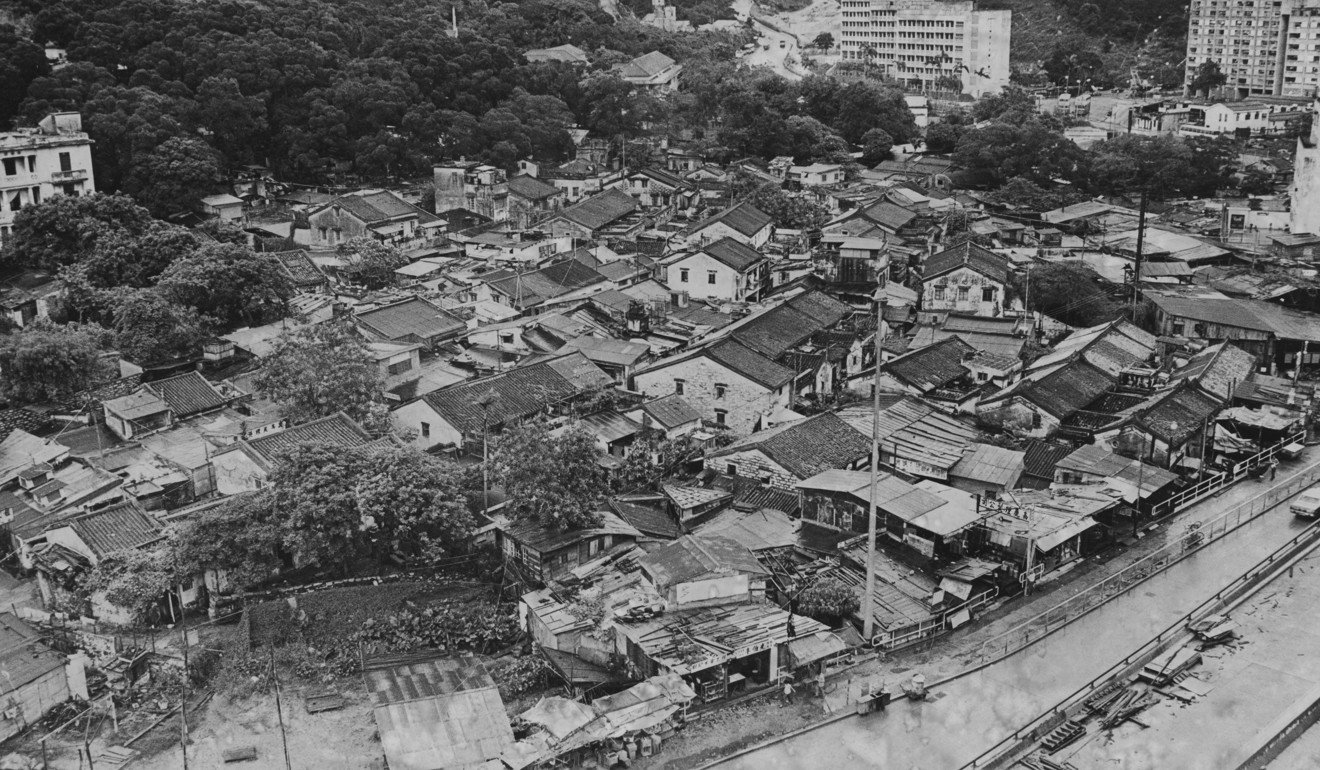 About 6:45pm to 7pm, we were almost all present, except for Golden Balls who came late. So we could start at 7.30pm sharp (except One Eyed Jack and Penile Dementia, who set off before the normal start time).
The Amble: After Mango gave a short briefing, the pack dashing up to Wing Ting Street and took a left to Ping Ting Street. After a long set of about 500 steps on the right we were directed to Hammer Hill. I was the front runner as usual when came to the first check, but l still got it wrong even though I had already done the same twail on Monday.
I ran straight up the steps for a long distance and found l was in the wrong when l heard QT calling twail from the bottom. When I ran back to the right twail, the pack were almost all in front of me. We ran to a shiggy path in the middle of the hill and were directed to somewhere near Diamond Hill.
No longer last l overtook all of the pack and led them down the long shiggy path, which ended up at the main concrete road. I clearly saw some concrete steps up to the fence and a great hole that you can go through. I got through the fence and ran down the main road, Fung Shing Street. But there were two blind people, Radio 1 and Stingray, who didn't see the hole and continued into the shiggy searching further for twail.
It made them waste more than five minutes in the shiggy. Finally they found the hole then short cut back to the circle, complaining to the hare of no marking! Other than them, Eunuch, Creme Brulee, Geriatric and Velcro Lips also wimped back.
Back to my twail. l ran down Fung Shing Street and met a wimps/rambo split at the junction beside a petrol station. I also checked wrong by chasing flour straight up the main road only to find a reverse arrow marked "on home". Then l ran back to the W/R split and found the real twail along the invisible path beside the petrol station and marked by tissue paper.
Chasing the paper into Diamond Hill Cemetery, I caught GM QT again when he ran around the cemetery. Running through the cemetery, we met the concrete Po Kong Village road and ran along it down to join the W/R split again. Then it was along Ping Ting road back to the circle.
The Postamble: When we got back there was Eunuch, Creme Brulee, Geriatric, Penile Dementia, Stingray, Radio 1 and Golden Balls, who came late and did his own thing. They were all drunk on beer already.
One Eyed Jack had left early as usual. It's like he didn't do the run because no one knew he'd been there. Velcro Lips got back after l'd finished a can of beer and complained that no one had marked the checks. Back To The Future was last. She did the whole rambo trail and said she was very scared when running through the cemetery alone.
The Circle/Down Downs — can't remember so many. Some of them were:
Mango — setting the same trail as he did for Kowloon Hash. No clear marking of the W/R split.
Liberace — getting the check wrong even though he'd done the same trail before. Not marking checks for Velcro Lips.
Back To The Future — Red Lantern.
Golden Balls — late. And doing his own run.
Radio1 and Golden Balls — private OnOn.
GM QT— 100 runs.
The OnOn: was in the daipaidong nearby. GM, Bunter, Mango, Stringray, Velcro, Penile, Geriatric, Liberace, GB and Radio 1 all went along, a total of 10 people. According to the Covid-19 law, gatherings of more than eight are not allowed. So Golden Balls and Radio 1, who were last to the daipaidong, reluctantly went for Korean barbecue somewhere else.
*** Ref WINO (Webshite In Name Only): Observant Hashers (Uh?) might have noticed that ONE WEEK BEFORE this run, a photo appeared with the Run Notice:
It was not quite this one but similar:
Your WINO then received a complaint so (after much grumbling) your WINO replaced it with this:
However, much to my astonishment, this innocuous pic was itself censored by our GM/Gauleiter-in-Chief (given access only to sort out/further fuck up this atrocious Word Press bollocks) and replaced with:
or similar…
I think I might have to resign – when is the AGM?
WINO Gunpowder Plod
---
Run 1964 – 4th March 2020
Radio One's Forest Wash-Out (with Jelly)
START LOCATION: Tai Po Kau Garden
The Hares: Radio One and Golden Jelly
The Scribe: Anus the Horrible – "Looking for a Sign"
The Day he was named:
Run 1684, 21 March 2015, Sham Tseng Reservoir – The Saturday Run …
The Pack: Auntiseptic, Anus the Horrible, Back to the Future, Bunter, Crème Brûlée, Dram, Eunuch, Farty Pants, Walkie Talkie, Geriatric, Golden Balls, Golden Jelly, Gunpowder Plod, Liberace, Lok Sap Gow, One Eyed Jack, Ponce of Darkness, QT, Salesman, Serbian Bomber, Stingray, Sticky, Victim
The Preamble: Approaching the pavilion at Tai Po Kau Garden, I was surprised to see 20 or so runners champing at the bit. It was a damp and misty evening; on the way there, in Golden Jelly's car, we'd guessed about eight people would show up.
The Hares, Radio 1 and Golden Jelly, took us through the markings. No toilet paper! Not because it was impractical but because it was going for USD$10 per roll in Tai Po.
The Amble: The pack then stormed off, up the road and onto the nature trail, directed there by a barely visible chalk arrow (as it turned out, one of very few) and up to the beginning of the colour-coded trails that run through the enchanted forest.
Myself, Eunuch, Stingray and Salesman spent a few minutes searching for a sign – anything – that might tell us which way to go. Nada. Nothing. Zilch. Sweet FA. The rain had taken all away.
At this point, a consensus was reached: The "run" would become a pleasant night-time stroll among the trees, following the blue trail that is dotted with interpretive notice boards with fascinating facts about twigs and woodlice.
As well as educating ourselves about naturism, along the way we chatted about the prospects of various English football teams such as Arsenal United, Manchester Rovers and Chelsea Wanderers and agreed it was a great pity that the back legs had fallen off Liverpool Athletic and that Brian Sheepskin would have to go, his position untenable.
Things were going swimmingly (twigs are mostly brown, it turns out) until Salesman broke into a run. A run, for fuck's sake. I followed, not wanting to left alone to be buggered by baboons or molested by the natives who, it's rumoured, dwell deep in the forest (last seen in1931 when two emerged from the forest onto the platform of Tai Po Kau KCR station begging for toilet paper and hand sanitiser).
And then, glory be, a sign. The Rambo / Wimp split. There was a god. Even, perhaps, a hare. Salesman and I opted for the Rambo, ascending a steep flight of steps to a trig point at about 300m and down yet more steps to Savanna Garden for a short burst of proper running along Tai Po Kau Rd. We emerged from the mist in triumphant fashion. As it turned out, we were the only two Rambos. And by some miracle, we'd followed the trail.
The Circle: Down-downs were numerous and varied. Ones I recall: The Hares, of course, for failing to take into account the effect of rain on chalk. Back to the Future and Lok Sap Gow for wearing each other's clothes. Sticky for being the recipient of ananatomically correct marital aid (who knew they made them this big?). Stingray for not bringing crisps (this from a Frenchman). Dram should have been given one, but wasn't for pretending that well-known Hong Kong birdwatcher and man about town Martin the Bird had been seen lurking in the trees, emulating the mating call of the Yorkshire Dodo.
Postscript: I can't speak to the experience of others. Golden Balls, (joined by Farty Pants and Gunpowder Plod, the latter returning early to share his hot mulled wine only with The Hares – Ed) it was rumoured, had chosen to cross the road to explore the coast in search of beer and women of questionable moral standing. They found only Liberace: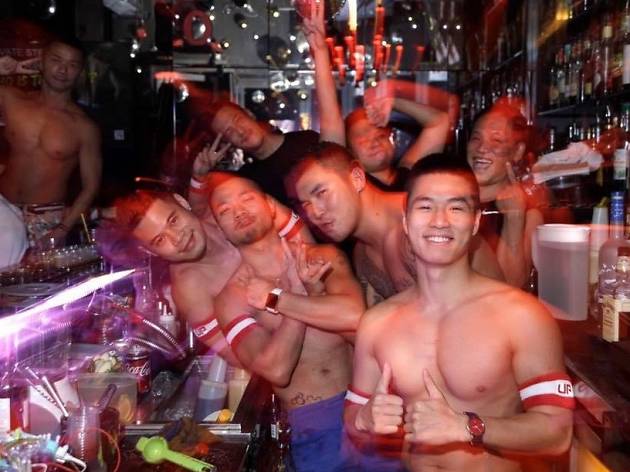 Most had wandered aimlessly about the forest, forlornly looking for markings. It's said some are still there, condemned to walk the trails for eternity, their plaintive cries of 'are you?' lost to the susurrating trees……