Radio One's Forest Wash-Out (with Jelly)
START LOCATION: Tai Po Kau Garden
The Hares: Radio One and Golden Jelly
The Scribe: Anus the Horrible – "Looking for a Sign"
The Day he was named:
Run 1684, 21 March 2015, Sham Tseng Reservoir – The Saturday Run …
The Pack: Auntiseptic, Anus the Horrible, Back to the Future, Bunter, Crème Brûlée, Dram, Eunuch, Farty Pants, Walkie Talkie, Geriatric, Golden Balls, Golden Jelly, Gunpowder Plod, Liberace, Lok Sap Gow, One Eyed Jack, Ponce of Darkness, QT, Salesman, Serbian Bomber, Stingray, Sticky, Victim
The Preamble: Approaching the pavilion at Tai Po Kau Garden, I was surprised to see 20 or so runners champing at the bit. It was a damp and misty evening; on the way there, in Golden Jelly's car, we'd guessed about eight people would show up.
The Hares, Radio 1 and Golden Jelly, took us through the markings. No toilet paper! Not because it was impractical but because it was going for USD$10 per roll in Tai Po.
The Amble: The pack then stormed off, up the road and onto the nature trail, directed there by a barely visible chalk arrow (as it turned out, one of very few) and up to the beginning of the colour-coded trails that run through the enchanted forest.
Myself, Eunuch, Stingray and Salesman spent a few minutes searching for a sign – anything – that might tell us which way to go. Nada. Nothing. Zilch. Sweet FA. The rain had taken all away.
At this point, a consensus was reached: The "run" would become a pleasant night-time stroll among the trees, following the blue trail that is dotted with interpretive notice boards with fascinating facts about twigs and woodlice.
As well as educating ourselves about naturism, along the way we chatted about the prospects of various English football teams such as Arsenal United, Manchester Rovers and Chelsea Wanderers and agreed it was a great pity that the back legs had fallen off Liverpool Athletic and that Brian Sheepskin would have to go, his position untenable.
Things were going swimmingly (twigs are mostly brown, it turns out) until Salesman broke into a run. A run, for fuck's sake. I followed, not wanting to left alone to be buggered by baboons or molested by the natives who, it's rumoured, dwell deep in the forest (last seen in1931 when two emerged from the forest onto the platform of Tai Po Kau KCR station begging for toilet paper and hand sanitiser).
And then, glory be, a sign. The Rambo / Wimp split. There was a god. Even, perhaps, a hare. Salesman and I opted for the Rambo, ascending a steep flight of steps to a trig point at about 300m and down yet more steps to Savanna Garden for a short burst of proper running along Tai Po Kau Rd. We emerged from the mist in triumphant fashion. As it turned out, we were the only two Rambos. And by some miracle, we'd followed the trail.
The Circle: Down-downs were numerous and varied. Ones I recall: The Hares, of course, for failing to take into account the effect of rain on chalk. Back to the Future and Lok Sap Gow for wearing each other's clothes. Sticky for being the recipient of ananatomically correct marital aid (who knew they made them this big?). Stingray for not bringing crisps (this from a Frenchman). Dram should have been given one, but wasn't for pretending that well-known Hong Kong birdwatcher and man about town Martin the Bird had been seen lurking in the trees, emulating the mating call of the Yorkshire Dodo.
Postscript: I can't speak to the experience of others. Golden Balls, (joined by Farty Pants and Gunpowder Plod, the latter returning early to share his hot mulled wine only with The Hares – Ed) it was rumoured, had chosen to cross the road to explore the coast in search of beer and women of questionable moral standing. They found only Liberace: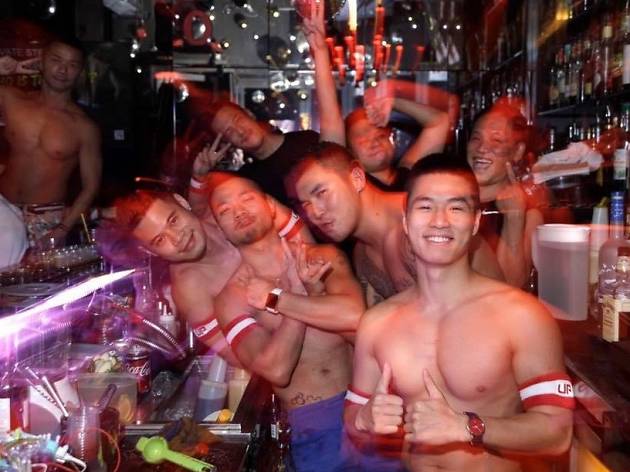 Most had wandered aimlessly about the forest, forlornly looking for markings. It's said some are still there, condemned to walk the trails for eternity, their plaintive cries of 'are you?' lost to the susurrating trees……